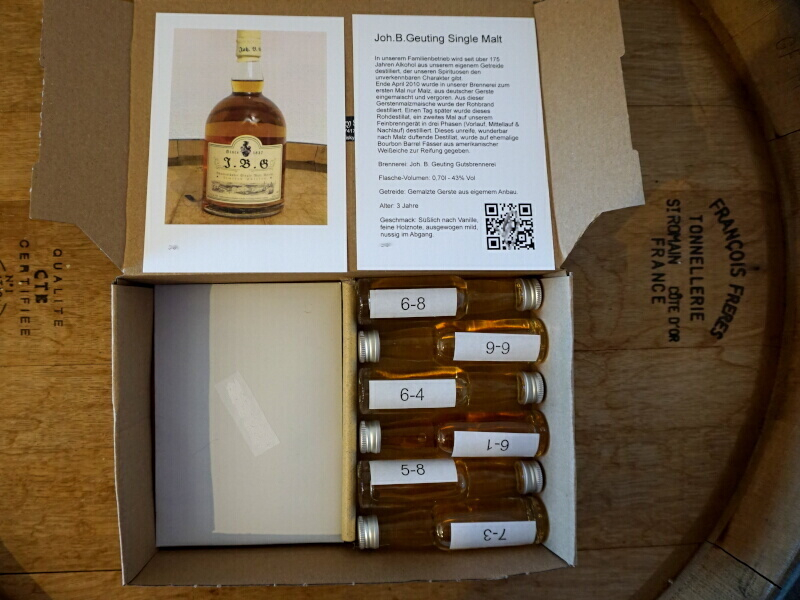 1.Tasting für Zuhause - Wählen Sie Ihre Whiskys
Tasting für Zuhause
In diesem besonderen Tasting zu "Deutschem Whisky" können Sie sich 6 Whisky heraussuchen, aus einer Auswahl vom mehr als 40 deutschen Whiskys. Durch die Nummern auf den Fläschchen (Samples) wird Ihren auch ein Blind Tasting ermöglicht. So dass Sie nicht auf Anhieb erkennen können um welchen Whisky es sich handelt.
In einem Umschlag befinden sich die Kärtchen mit der Beschreibung des Whiskys sowie die Abbildung der Original Flasche. Zudem erleichtert ein QR-Code die Bestellung selbiger.
Jedes Sample hat eine Füllmenge von 20 ml von erlesenen deutschen Whiskys. Je Tasting-Set erhalten Sie 6 unterschiedliche Whisky.

z.B. : Bud Spencer * Signature Edition * Preussischer Whisky * Münsterländer Single Malt * Gilors * Thousand Mountain - Mc Raven * Fading Hill * Rebell der Whisky * Sulmgau Whisky * Spirit Of The Cask * Owen * Tecker * Danne's * Coillmór * Saillt Mór * Bodensee Whisky * Senft Whisky und viele kleine Brennereien.
Wenn Sie jedoch nicht selber Whisky auswählen wollen, oder nicht wissen was Sie nehmen sollen, hilft Ihnen vielleicht unsere "Zufällige" Auswahl.
Wenn Sie allerdings das Tasting als Geschenk nutzen möchten, müssen Sie den Versand per DPD/DHL auswählen.